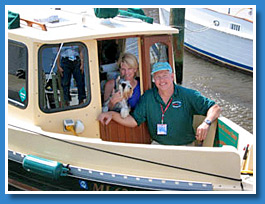 YOU are invited to sail the tranquil passages of America's historic past, aboard your very own personal "cruise liner" - and YOU are the skipper and crew of YOUR boat!

One of America's best-kept vacation secrets is the 524-mile waterway complex that makes up the New York State Canal System. The State of New York has a treasure, that we are actively promoting to cruisers, both experienced and novice. We want you to enjoy a vacation you will want to repeat again and again, one that will offer new adventure each time you visit.

At Cruise USA, we're featuring the Ted Brewer designed, Nimble Nomad trawler. They are outfitted with everything
you will need to navigate through a perfect vacation afloat. The Nomad is very easy to operate. We're sure to have you underway in short order after we provide you with a friendly and informative orientation cruise.



These little trawlers are perfectly designed for two people, BOTH on vacation. We'll show you how to keep 'housekeeping' to a minimum, and enjoyment to a maximum. It's YOUR vacation afloat, at YOUR speed (no-wake/seven miles per hour) to YOUR destinations (hundreds of great restaurants, quaint hotels, fun and funky stores and shops, and a lifetime supply of historic places to see and explore).

For "Canal Season " (Mid May to Mid October), we've designed cruise itineraries operating out of historic Brewerton, NY; which is snuggled along the canal just 10 miles north of airline-friendly Syracuse, NY. We offer suggested Float Plans westward along the Wood Creek Basin toward Buffalo, and through a section known as the "Best 100 miles" along the canal. You can certainly plan your own cruise, we'll send you have all the materials you'll need before you arrive. We have a complete set of charts, and guides, as well as suggestions, and tips from other clients on board your Nomad to use underway.

You can see it ALL from your personal cruise liner, and there is a lot to see, and do at every port along this historic waterway. You'll make some great new friends, and everybody will want to talk with you about your 'beautiful boat'.

So take your time, and 'cruise' through this site to learn about the inland waterways of New York and the Nomad trawlers that will make your next vacation adventure perfect.
Contact Us:
Phone: (228) 424-3768
Email: cruiseusacharter@gmail.com